Invitation to Priesthood: Oblates of the Blessed Virgin Mary part two
---
---
An Invitation from Archbishop Chaput
'It was the grace of God working through Archbishop Chaput, my old girlfriend, and everyone else along my path, which led me to that leap of faith into religious life.'

Posted on: 20th March 2012
NASHVILLE, TN — Today's Catholic testimony is a part two story from last week's video on discernment into the priesthood. The video below centers around a story of discernment into the Oblates of the Blessed Virgin Mary. The invitation came from the grace of God through the man of the decade here in Denver, Archbishop Charles Chaput, now the shepherd for the Archdiocese of Philadelphia.
Today's Story


You may be a little surprised by this seminarian's first outlook toward the priesthood in the early 2000s. To be frank, he thought priests were losers; he quickly clears up that notion by saying 'I could not have been further from the truth.' Eventually, this man had to make the leap of faith, he had to 'jump on to that grenade for Christ' as he puts it. Are you ready to jump on a grenade for your faith? Without a doubt, this man's commitment to his vocation shines forth in the words he shares today. As he puts it, religious life has it's challenges, it's not always easy, but the joys far outweigh those challenges. As with any vocation, wherever one may be called, it takes commitment to prayer and building up one's spiritual reservoir to undertake the task of finding God's path. This man's path landed him not in the diocesan priesthood, but religious, with the Oblates of the Blessed Virgin Mary.
Connect
You may remember from last week's part one video, that it was an invitation to the priesthood from Archbishop Chaput which ignited the proper reflection and prayer to discern God's call. Even if it means leaving one's career or woman that you love, God's path is an encounter with everlasting joy, unmatched by any earthly 'stuff', as we heard yesterday from Adam. If you tuned in yesterday to the site, you heard a story about how having everything in the world, left a man completely empty inside. Well today's story from this Oblate seminarian is not far from that vein of thought. If you are wondering who are the Oblates, be sure to visit their main website by clicking on their logo on the left. Or perhaps you are interested in the founder's story, you can find that information by clicking on the image of Venerable Pio Bruno Lanteri (1759-1830) on the right hand side. Let us continue to pray for more vocations to the priesthood, and for the fortitude to be that simple yet powerful invitation.

OneBillionStories.com Contributor – Seth James DeMoor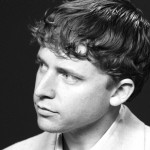 Seth J. DeMoor
Founder & Video Missionary in USA
GET UPDATES FROM SETH DEMOOR
seth@onebillionstories.com
Related Stories
Yesterday's Story

Readings for 20th March 2012
First: Ezekiel 47:1-9, 12
Responsorial: Psalm 46:2-3, 5-6, 8-9
Gospel: John 5:1-16
Rosary: Sorrowful Mysteries
1. Agony in the Garden
2. Scourging at the Pillar
3. Crowning of Thorns
4. Way of the Cross
5. Crucifixion and Death
---
---