Category: Apostolates
---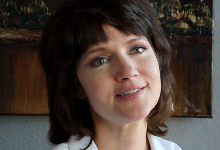 You can always Choose to let the Child Live
"My parents faith was never going through the motions, it really was the most important aspect of their life."
Published on: January 23rd, 2013 — 12:12 AM / OBS: North America
DENVER, CO, USA — Reflecting upon past generations of Catholics, who courageously crossed the Atlantic by ship, and laid the groundwork for the seeds of faith in America, is important to remember in 2013. Their fortitude sometimes goes unnoticed in familial conversations within Catholic circles, but not for Paula Suhr. Heiring from Irish, Italian, and German roots, her family preserved their Catholic identity for many centuries and generations, a sacrifice that Paula is incredibly grateful for. It is her appreciation for the Sacraments, especially the sacrament of Holy Matrimony and the honor in raising 3 wonderful children, that really gets Paula … Read More »
---
His Holiness Radiated From Him
"We did not know if we could get pregnant, soon after we found out we were pregnant with our first daughter!"
Published on: December 19th, 2012 — 5:48 PM / OBS: South America
AYAVIRI, PERU — When Abby Sinnett was transitioning from her teenage years to her early twenties, an incredible blessing came into her life; her husband first, but then a trip to the Eternal City. After committing their lives to each other, Abby and her husband were showered with truly a once in a life time blessing, a flight to Rome to meet in person with the late, and now blessed, John Paul II. On the flight over to Rome and the Vatican, this young and faithful Catholic couple contemplated one important question, "what should we say to the Holy Father?" (more below)
Annie & … Read More »
---
What is this knocking, what am I hearing?
"Christ in the City is what made me know that I can live out the faith for the rest of my life."
Published on: December 17th, 2012 — 1:08 AM / OBS: North America
DENVER, CO, USA — Hailing from Cali, Shaina Stein grew up in a very diverse all-American city called Stockton. She was raised a bit outside of town, in a fairly privileged background, in cherry tree country. It was in Stockton, that Shaina was able to first ponder the notion of God and religion in her youth. This questioning as a child led to a couple interesting side stories in Shaina's journey, the first being that she baptized herself when she was very young, keep in mind, her family had strong Jewish roots. And the second story transpired when she … Read More »
---
'It was necessary, absolutely necessary'
Whether it is the scratches in our hardwood floors or deciding on our next vacation, it often obstructs our view of Christ
Published on: October 30th, 2012 — 9:28 AM / OBS: South America
AYAVARI, PERU — Every year for the past 3 years, medical missionaries have been making their way from the U.S. and other parts of Peru to the small town of Ayaviri, Peru. For almost a week, these doctors, nurses, pharmacists and some non-medical personnel tend to the needs of the people in this high altitude town (about 4,000 meters, or over 13,000 feet) and the surrounding countryside. They brought all the medicine, vitamins, and equipment they could and tended to patients from October 16th through the 19th (2012). This medical campaign (as it is formally called), was coordinated through the … Read More »
---
Good day OneBillionStories.com fans. The video above, and the excerpt below, is a snapshot into the life of Toni Garrett, a hopeful aspirant for the Sisters of the Holy Family of Nazareth. Watch the video and read below to learn about her story and how you can help her follow God's path of vocation. Click the Labouré Society logo below to learn more about Toni's story.
A vignette of Toni's story: "God and I grappled with one another for four years and finally arrived at a fork in the road. My spiritual director asked me a simple question that changed my life – "What do you hope for?" This question launched me into a conversation with God about the future that He and I had never been in before and it honestly never occurred to me that my Lord would have … Read More »
---
Today our team shares a very unique combination of reflections from London. The stories told are centered around two points. First, a rally that took place in front of the Pakistani Embassy in London protesting the imprisonment of a Christian in Pakistan. The second point is that despite these challenges, the hope found at World Youth Day events sheds light on the bright future this world has which rests on the shoulders of the youth. World Youth Day 2013 is a prime example of yet another moment in Catholic history when the youth of the world will come forward to tell the true story of 21st century Catholicism. Will our team see you at World Youth Day 2013?
---
In our society, young people feel pressured to go directly from high school into college. Any other path seems irresponsible or a waste of time. This young Mexican woman wanted to do something different because she already felt that the life she was leading going to parties and spending time with friends was not enough to make her happy. She discovered the opportunity to go for 1 year in service of the Church, and when she told her parents, they were not exactly supportive. When she put the decision in God´s hands, her parents began to have a change of heart and decided to let her go.
The program is part of the Regnum Christi Mission Corps, Regnum Christi Coworkers. It is open to young men and women from 18-25 years of age who want to give a year … Read More »
---
David Panlilio
Video Missionary in the Philippines
GET UPDATES FROM DAVID PANLILIO
david@onebillionstories.com
"Savoring our Faith"
One meal at a time, Fr. Leo continues to bring Christ's incarnation to the masses through 'Grace Before Meals' (www.GraceBeforeMeals.com)
Posted on: 12th April 2012
MANILA, PHILIPPINES — Persistence and prayer have successfully launched OneBillionStories.com in the Philippines; and also the fortitude of Video Missionary David Panlilio. Thanks to his 'yes' for this mission on the 'digital continent', and the grace of God, David has managed to take a concept for evangelization in the 21st century, and make it a reality. Today's video from the Philippines is the fruit of trust, which is a key ingredient when working for the Kingdom. Another key ingredient, is a good meal; "Grace Before Meals" with Fr. Leo Patalinghug is a movement within the … Read More »
---
After receiving so much from God and from his friends and family, Jim decided to leave Ireland and go to Northern Argentina for 1 year giving thanks to the Lord for all he had received. However, the Lord had a different plan for him. After arriving and experiencing the poverty, he had to decide between leaving right away or throwing the timetable out the window and accepting the Lord's call to stay for much more than 1 year. Now 10 years later, Jim has since founded his own mission in Oberá called Vía del Señor (The Lord's Way) and married Silvina, a wonderful Argentine woman. Jim and Silvina live half the year in Ireland and half the year in Argentina.