Category: Speakers
---
Holy Family Students are Being Prepared Daily for 21st Century Challenges
"Holy Family High School continues to represent the best of Catholic education in Colorado, and across the United States."
Published on: April 16th, 2013 — 3:49 PM / OBS: North America
BROOMFIELD, CO, USA — Over the past 6 months, OneBillionStories.com has had the privilege of working with Holy Family High School for the production of this highlight reel on their amazing school. We say "privilege", because the tremendous responsibility of solid Catholic education in the 21st century is in many ways in the hands of this school; and our team was blessed to tag along for the tremendous ride! (more below)
Seth J. DeMoor
Video Missionary, North America
GET UPDATES FROM SETH DEMOOR
seth@onebillionstories.com
music by: Josh Garrels, AWOLNATION / filmed & edited by: Seth James DeMoor
This highlight video is … Read More »
---
Choices in Life can Break Hearts, but God's Mercy Brings us Through
"This choice breaks more than one heart, this choice breaks more than one heart…"
Published on: April 15th, 2013 — 1:34 PM / OBS: North America
DENVER, CO, USA — Listen closely to the lyrics of this song by Michelle Marie Mandico as she performs live, "Breaking Hearts." The message of life, love, and mercy pour forth from the notes of Michelle. And the challenges in this century for babies in the womb only continue to increase. As Catholics, we, the 'one billion' member family, must continue to use beauty to pierce the heart of this culture of death we live within. (more below)
Seth J. DeMoor
Video Missionary, North America
GET UPDATES FROM SETH DEMOOR
seth@onebillionstories.com
music by: Michelle Marie Mandico / filmed & edited by: Seth James DeMoor
"Breaking Hearts," … Read More »
---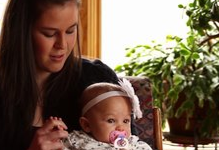 I was that Girl that Could Not Say No
'God pierced my soul when I was all alone, wandering in the darkness'
Published on: April 15th, 2013 — 11:19 AM / OBS: North America
GREELEY, CO, USA — Her world was turned upside down. She was single. Alone. Afraid. Her 21st birthday party led to trying moments, in the middle of college. Abusing alcohol led to decisions, choices, defining life moments, and eventually a little life inside of her; a little baby girl moving, breathing, and learning the love of this world through the womb of her mother. A place, the womb of a mother, which was once considered the safest place on earth for babies. (more below)
music by: David Thies, The Album Leaf, As Colorful as Ever / filmed by: Jon Ervin, Seth James DeMoor / edited by: … Read More »
---
My Idea was to Give One Year of Volunteer Service
"No one can give what they don't have."
Published on: April 11th, 2013 — 8:07 AM / OBS: SOUTH AMERICA
CUSCO, PERU — A story for you today from Cusco, Peru in Spanish with English subtitles focusing on discernment through missionary service. We bring you the testimony of two men giving service to the poor with the Missionary Servants of the Poor (Opus Christi Salvatoris Mundi www.msptm.com/en/ )
The first man you see in the video is Fr. Pierfilippo Giovanetti from Italy, and the second is Eduardo Pardo from Barcelona, Spain. They both went to Cusco with the idea that they would give one year of service to the poor. (read more below)
Annie & Al Palmquist
Video Missionaries in South America
GET UPDATES FROM
ANNIE & AL PALMQUIST
annie@onebillionstories.com
produced: Annie & Al Palmquist … Read More »
---
Christ Has Brought Us Together Today
"We are here to say yes to life and no to death."
Published on: March 27th, 2013 — 2:33 PM / OBS: SOUTH AMERICA
LIMA, PERU — This year's March for Life in Lima was on March 13, 2013. Everyone said this year it was much more organized, and the Archdiocese of Lima itself organized the march. They were hoping that 100,000 people would participate in the march, and according to Catholic News Agency, the number of participants exceeded 100,000 people. (read more below)
Annie & Al Palmquist
Video Missionaries in South America
GET UPDATES FROM ANNIE & AL PALMQUIST
annie@onebillionstories.com
music by: Aaron Copland
We started in front of the Department of Defense in Jesus María and marched until arriving in Parque Castilla in Lince. There was a lively pro-life spirit about the entire crowd despite the … Read More »
---
I Want to Serve a Church that is Vibrant
"You are a priest forever according to the order of Melchizedek"
Published on: March 27th, 2013 — 8:09 AM / OBS: North America
DENVER, CO, USA — "I wanted to be part of something bigger than myself." Those words from Deacon Nathan Goebel are powerful, and rare in the 21st century. Do those words from the good Deacon resonate in your life? Better yet, will those words resonate in the streets of Denver over the next 5, 10, even 20 years from now? (more below)
Seth J. DeMoor
Video Missionary, North America
GET UPDATES FROM SETH DEMOOR
seth@onebillionstories.com
music by: The Tallest Man on Earth, The Album Leaf, Modest Mouse
This short video and vignette on the faithful and lighthearted 'Man of God'(as pointed out by his coffee mug) from Illinois, now serving the Archdiocese … Read More »
---
I Started Cantering when I was Thirteen
"It's such an amazing experience when you get fear out of your life."
Published on: March 15th, 2013 — 12:48 PM / OBS: North America
Highlands Ranch, CO, USA — Remember when you use to dream in your youth? Dream about making the winning field goal, flying to space, or perhaps even singing at Carnegie Hall? Well guess what, today's story is from a man in Highlands Ranch Colorado who in fact sang his way to stages all over the world, including well known Catholic Churches in America, Europe, and beyond. (more below)
Seth J. DeMoor
Founder & Video Missionary, USA
GET UPDATES FROM SETH DEMOOR
seth@onebillionstories.com
music by: Myles Ogea
For Myles Ogea, the music was a dream from the time he was a boy. At the young age of thirteen, he was blessed to fill … Read More »
---
We have most of our appliances now!
"We are hoping that a few people in Lima might begin to help us film and edit videos."
Published on: March 12th, 2013 — 3:40 PM / OBS: SOUTH AMERICA
LIMA, PERU — This is the first vlog from Annie and Al's new adventure. They are hoping and planning on it being the first of many bilingual vlogs produced from Lima. In their own words:
Two months ago we arrived in Peru and began looking for a place to live. We spent a week apartment hunting in Lima's hot summer afternoons until we finally found a place. Perfect size, quiet neighborhood, but it was not furnished. We spent a few uncomfortable days sitting on the floor eating take out food with chopsticks and sleeping on an air mattress that had a slow leak of air. … Read More »
---
Do With Me As You Please Lord
"It was during the painful period of my life when I realized that God wanted to reach out to me in those darkest moments."
Published on: March 7th, 2013 — 10:48 AM / OBS: ASIA
QUEZON CITY, THE PHILIPPINES — The experience of a divorce for any child or teenager is never easy. The fracture to the family unit in the modern world is a trend that sadly continues to increase. For Ilsa Reyes, the family divorce was one of the darkest moments in her life, at the age of 13. Despite a strong background in the faith, Ilsa's parents did eventually separate. (read more below)
David Panlilio
Video Missionary in the Philippines
GET UPDATES FROM DAVID PANLILIO
david@onebillionstories.com
produced by: David Panlilio & edited by: Carl Graham
Ilsa's story is unique for a few different reasons, … Read More »
---
With the chair of St. Peter vacant, the eyes of world now turn to the Vatican to learn the news of his successor. This moment in Church History has not been seen since 1415. Therefore, this is the moment in our lifetime when the one billion Catholics on earth can rally in support of our next Holy Father's leadership and fidelity to the Magisterium! Will you be there?
How do I get involved?
1. Find your city on www.RallyForThePope.com
2. Locate the rally point in your city
3. On the day a new Pope is elected, rally with all your Catholic friends at 4:30 p.m. local time; or at the first sign of smoke if it is past 4:30 p.m.
My City is not Listed, what do I do?
If your city is not listed below, then this the moment for you to start a rally! … Read More »