Category: Discernment
---
My Idea was to Give One Year of Volunteer Service
"No one can give what they don't have."
Published on: April 11th, 2013 — 8:07 AM / OBS: SOUTH AMERICA
CUSCO, PERU — A story for you today from Cusco, Peru in Spanish with English subtitles focusing on discernment through missionary service. We bring you the testimony of two men giving service to the poor with the Missionary Servants of the Poor (Opus Christi Salvatoris Mundi www.msptm.com/en/ )
The first man you see in the video is Fr. Pierfilippo Giovanetti from Italy, and the second is Eduardo Pardo from Barcelona, Spain. They both went to Cusco with the idea that they would give one year of service to the poor. (read more below)
Annie & Al Palmquist
Video Missionaries in South America
GET UPDATES FROM
ANNIE & AL PALMQUIST
annie@onebillionstories.com
produced: Annie & Al Palmquist … Read More »
---
I Want to Serve a Church that is Vibrant
"You are a priest forever according to the order of Melchizedek"
Published on: March 27th, 2013 — 8:09 AM / OBS: North America
DENVER, CO, USA — "I wanted to be part of something bigger than myself." Those words from Deacon Nathan Goebel are powerful, and rare in the 21st century. Do those words from the good Deacon resonate in your life? Better yet, will those words resonate in the streets of Denver over the next 5, 10, even 20 years from now? (more below)
Seth J. DeMoor
Video Missionary, North America
GET UPDATES FROM SETH DEMOOR
seth@onebillionstories.com
music by: The Tallest Man on Earth, The Album Leaf, Modest Mouse
This short video and vignette on the faithful and lighthearted 'Man of God'(as pointed out by his coffee mug) from Illinois, now serving the Archdiocese … Read More »
---
Sodalitium Christianae Vitae Perpetual Promises
"I, Ricardo Simmonds, commit myself before God and the Sodalit community, and invite myself to keep for all the days of my life, obedience and celibacy."
Published on: February 4th, 2013 — 1:42 PM / OBS: North America
DENVER, CO, USA — A few words must be said at the outset to set up today's video from Holy Name Parish in the Archdiocese of Denver. It begins with Ricardo Simmonds' quest for happiness after high school, first through the reading and study of philosophy and new age spirituality. Through that dialogue with ancient texts, Ricardo came to the conclusion that in the world there was this concept of God, or something greater than himself. He realized that pursuing this transcendent person and finding him was the only life pursuit in this world that would make … Read More »
---
What is this knocking, what am I hearing?
"Christ in the City is what made me know that I can live out the faith for the rest of my life."
Published on: December 17th, 2012 — 1:08 AM / OBS: North America
DENVER, CO, USA — Hailing from Cali, Shaina Stein grew up in a very diverse all-American city called Stockton. She was raised a bit outside of town, in a fairly privileged background, in cherry tree country. It was in Stockton, that Shaina was able to first ponder the notion of God and religion in her youth. This questioning as a child led to a couple interesting side stories in Shaina's journey, the first being that she baptized herself when she was very young, keep in mind, her family had strong Jewish roots. And the second story transpired when she … Read More »
---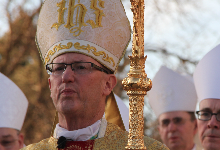 'Let them be born in wonder'
The seeds of my conversion began in Kansas; the rhythms of the rural life are at the heart of my spiritual life
Published on: November 23rd, 2012 — 7:27 PM / OBS: North America
LINCOLN, NE, USA — By God's grace, this mission is often blessed in road trip type traveling across this great nation, in pursuit of the inspiring personal Catholic stories. The most recent adventure across state lines brought our video missionary team to the cornhusker state, Nebraska. Traversing the fields of corn in our 1996 Subaru came to fruition because of one man, the now famous (in northern Colorado) Bishop James Conley.
Seth J. DeMoor
Founder & Video Missionary, USA
GET UPDATES FROM SETH DEMOOR
seth@onebillionstories.com
music by: Gregory Alan Isakov, Cold Play, Josh Ritter
Since OBS team headquarters reside in the Mile High City, … Read More »
---
An Australian named Greg goes to Peru to begin a year of growth and learning about the Socalitium of Christian Life in Lima, Peru. He is an aspirant, meaning he aspires to go into formation and come out as a consecrated lay man that will devote his life to the apostolic work he does evangelizing the culture. Meeting the people where they are at, but not necessarily being ok with where they are, and challenging them to move to higher levels spiritually. We found him with a mission group from Boulder, Colorado that went for 2 weeks to serve the poor in a shantytown in Lima. Greg has been living in Lima for the last year and hopes to enter his formation this coming year to become a Sodalith, a consecrated lay man with the movement. We hope you enjoy … Read More »
---
Coming from India to Tanzania has been quite a journey for Godwin Rodrigues. A native of Mangalore, he grew up with many challenges in his previous life. After singing in a heavy rock metal band he discovered that there must be more to life than screaming lyrics into a microphone. Through intentional discernment, he decided that it was time to commit his life to Christ through the Carmelite order. Listening to his story makes one aware very quickly that peace and happiness indeed is possible at the foot of Cross.
---
From his time as an altar boy, Charles felt the call that God was calling him to be a priest. Later, he felt a strong desire to be a priest, but he had not discovered yet his path for priesthood. Therefore, he went to the Internet to search on Google for: Religious Congregations. It just so happened that one of the results was Carmelites of Tanzania. After spending some time with the Carmelites in Tanzania, it was clear that Charles was on a clear path to a vocation in the priesthood thanks to their prayer life and devotion to the Blessed Virgin Mary.
More Catholic stories will continue to stream in from Tanzania in the coming days on OneBillionStories.com, check back soon under the 'Africa' section.
---
The ability to discern God's will in the 21st century is truly a gift. Gavin Landers proves that it can be done this day in age. Few people are able to take the time to make the proper decision to follow God's path, but he does, and this video proves it. This man's story brings to light the true wisdom of setting aside proper time to discern God's will. Check out how he has been discerning in Europe today on OneBillionStories.com. More Catholic stories arriving soon from the isle of England on the wheels of John Coats later this week.
---
Sister Emmanuel of Manchester England shares about her life's journey into a religious order called the Mysteries of Divine Revelation. At first, Sister Emmanuel was not too keen on the idea of serving through a religious life. Over time, the language of love dispersed all doubts of her vocation to the service of the Church through religious life. Despite not knowing Italian, the only postulant in fact, Sister Emmanuel went to Rome to join an Italian based order. Part of their charism and outreach is education through art and beauty. Throughout this video testimony, revelations into the beautiful mystery of Catholicism's past are uncovered by this Sister's powerful insights. Experience an English story on this global Catholic mission thanks to Video Missionary John Coats, more coming soon, stay tuned.